Request a Quote / Contact us
Application Flowchart
Product Selection Chart
View 3D Model
Download PDF
How To Order
Back to Product Line
Raptor SS™
Design Features
Stainless steel construction
Wash-down ready
Improved design for stiffness and loading
High torque gear geometry
Advanced materials and heat treatments
IP65 sealed
Mounting in any direction
Captive input pinion
Simplified quick installation
NEMA and Metric configurations standard
Available with white epoxy coating and/or food grade grease for food related applications
Performance Specifications
023RTX (NEMA) / 060RTX (METRIC)
034RTX (NEMA) / 090RTX (METRIC)
Ratio
TNOM (1)
ln-lbs (Nm)
TMAX ACCEL
ln-lbs (Nm)
TE-STOP (2)
ln-lbs (Nm)
TNOM (1)
ln-lbs (Nm)
TMAX ACCEL
ln-lbs (Nm)
TE-STOP (2)
ln-lbs (Nm)
4:1
395   (45)
468   (53)
947   (107)
1452   (164)
1829   (207)
3473   (392)
5:1
340   (38)
400   (45)
926   (105)
1274   (144)
1605   (181)
3316   (375)
7:1
231   (26)
280   (32)
861   (97)
863   (98)
1088   (123)
2821   (319)
10:1
150   (17)
190   (22)
720   (81)
559   (63)
704   (89)
2456   (277)
16:1
395   (45)
468   (53)
947   (107)
1452   (164)
1829   (207)
3473   (392)
20:1
395   (45)
468   (53)
947   (107)
1452   (164)
1829   (207)
3473   (392)
25:1
340   (38)
400   (45)
926   (105)
1274   (144)
1605   (181)
3316   (375)
28:1
395   (45)
468   (53)
947   (107)
1452   (164)
1829   (207)
3473   (392)
35:1
340   (38)
400   (45)
926   (105)
1274   (144)
1605   (181)
3316   (375)
40:1
395   (45)
468   (53)
947   (107)
1452   (164)
1829   (207)
3473   (392)
50:1
340   (38)
400   (45)
926   (105)
1274   (144)
1605   (181)
3316   (375)
70:1
265   (30)
320   (36)
861   (97)
993   (112)
1251   (141)
2821   (319)
100:1
175   (20)
221   (25)
720   (81)
642   (73)
810   (92)
2456   (277)
160:1
395   (45)
468   (53)
947   (107)
1452   (164)
1829   (207)
3473   (392)
280:1
395   (45)
468   (53)
947   (107)
1452   (164)
1829   (207)
3473   (392)
400:1
395   (45)
468   (53)
947   (107)
1452   (164)
1829   (207)
3473   (392)
500:1
340   (38)
400   (45)
926   (105)
1274   (144)
1605   (181)
3316   (375)
700:1
265   (30)
320   (36)
861   (97)
993   (112)
1251   (141)
2821   (319)
Torsional Stiffness
15 in-lbs/arc-min
70 in-lbs/arc-min
Gearbox Weight (lbs)
1 stage 4.2lbs / 2 stage 4.8 lbs / 3 stage 5.6 lbs
1 stage 12.2 lbs / 2 stage 15.6 lbs / 3 stage 18.9 lbs
Input Speed
6500 RPM Maximum
Backlash (arc-min)
4 (1 stage), 6 (2 stage), 8 (3 stage)
Service Life
>15,000 HOURS
Efficiency (4)
1 stage >95% / 2 stage >90% / 3 stage >85%
Operating Temperature
-40F to +250F
1. All torque ratings are based upon 3,000 RPM nominal input speed, and 15,000 hours minimum service life.
2. E-STOP torque rating is limited to 1,000 occurrences.
3. Torsional Stiffness rating varies by type and ratio. Specified rating based on Metric, 5:1 ratio.
4. Efficiency rated at 3,000 RPM input speed, at Nominal Rated Torque.
5. Other ratios available.
---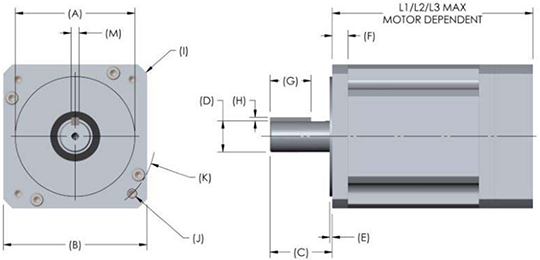 Gearhead Dimensions
Dimension
Code
023RTX
Inch   (mm)
060RTX
Metric   (in)
034RTX
Inch   (mm)
090RTX
Metric   (in)
Pilot Diameter (+.000/-.002 in)
A
1.500   (38)
50   (1.969)
2.875   (73)
80   (3.150)
Square Flange
B
2.25   (57)
60   (2.36)
3.450   (87)
90   (3.540)
Shaft Length
C
1.25   (32)
30   (1.18)
1.500   (38)
40   (1.57)
Shaft Diameter (+.0000/-.0005 in)
D
0.500   (12.7)
16   (0.6299)
0.750   (19)
22   (0.8661)
Pilot Length
E
0.062   (2)
3   (0.118)
0.062   (2)
3   (0.118)
Flange Thickness
F
0.250   (6.4)
6.4   (0.250)
0.375   (9.5)
9.5   (0.375)
Key Length
G
0.75   (19)
20   (0.790)
0.980   (25)
25   (0.980)
Key Height
H
0.047   (1.2)
2   (0.079)
0.081   (2.06)
2.5   (0.098)
Key Width (3)
M
0.125   (3.18)
5   (0.1969)
0.188   (5)
6   (0.2362)
Housing Diameter
I
2.95   (75)
80   (3.15)
4.58   (116)
116   (4.58)
Bolt Hole Diameter
J
0.205   (5.2)
5.6   (0.220)
0.220   (5.6)
6.6   (0.260)
Bolt Circle Diameter
K
2.625   (67)
70   (2.756)
3.875   (98)
100   (3.937)
Gearhead Length (1)
L1
L2
L3
3.39   (86)
4.28   (109)
5.17   (131)
86   (3.39)
108   (4.28)
131   (5.17)
4.82   (122)
6.23   (158)
7.63   (193)
122   (4.82)
158   (6.23)
194   (7.63)
Moment of Inertia Table(2) (oz-in-sec2)
Ratio
023RTX
060RTX
034RTX
090RTX
4:1
1.861E-03
1.868E-03
1.295E-02
1.297E-02
5:1
1.676E-03
1.680E-03
1.119E-02
1.121E-02
7:1
1.536E-03
1.538E-03
9.808E-03
9.816E-03
10:1
1.464E-03
1.465E-03
9.111E-03
9.115E-03
16:1
1.702E-03
1.702E-03
1.200E-02
1.200E-02
20:1
1.574E-03
1.575E-03
1.059E-02
1.059E-02
25:1
1.567E-03
1.567E-03
1.051E-02
1.052E-02
28:1
1.484E-03
1.485E-03
9.498E-03
9.498E-03
35:1
1.481E-03
1.481E-03
9.462E-03
9.462E-03
40:1
1.439E-03
1.439E-03
8.944E-03
8.944E-03
50:1
1.437E-03
1.437E-03
8.926E-03
8.926E-03
70:1
1.436E-03
1.436E-03
8.912E-03
8.912E-03
100:1
1.435E-03
1.435E-03
8.920E-03
8.920E-03
160:1
1.437E-03
1.437E-03
8.934E-03
8.934E-03
280:1
1.435E-03
1.435E-03
8.909E-03
8.909E-03
400:1
1.435E-03
1.435E-03
8.919E-03
8.919E-03
500:1
1.435E-03
1.435E-03
8.919E-03
8.919E-03
700:1
1.435E-03
1.435E-03
8.918E-03
8.918E-03
Gearhead Length based on NEMA motor mounting.
Gearhead inertia values shown include pinion, clamp and sleeve, and are for standard NEMA mounting.
Key Width tolerance for English keys is: )+.0001 / -.000in.
Key Width tolerance for Metric keys is: +.000 / -.0012in.
All specifications are subject to change withour prior notice